Miracles, Graces and Favors Received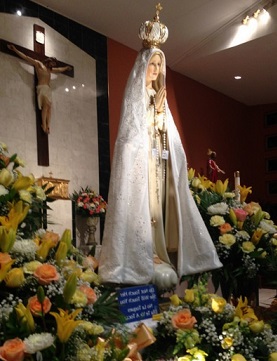 Physical cures attributed to the presence of the International Pilgrim Virgin Statue of Our Lady of Fatima have been documented many times. The changes in expression and coloration, and even the pose of the statue have been reported innumerable times.
The important miracles, however, are the spiritual cures and gifts Our Lady bestows. The sudden conversion of a stubborn heretic is a good example. Another important miracle is the enlightenment of someone who has resisted the idea of statues, or the idea of praying to saints.
Spiritual miracles are infinitely more valuable than the things we can see, touch, or measure.
How can I host the IPVS?
To find out how you can host the International Pilgrim Virgin Statue, please contact:
Rose Marie Malburg
President, Pilgrim Virgin Committee
If you have additional questions, please read the frequently asked questions page, and do not hesitate to contact the Pilgrim Virgin Committee. God bless you!