Tour Photos
View recent pictures of the Pilgrim Virgin Statue on tour via the official IPVS Flickr site.
Promotional Photos
The photos provided below may be downloaded for use in your parish bulletin or poster to promote the visit of the International Pilgrim Virgin Statue in your diocese or parish churches.
Easy Download Instructions
Left Click on the photo you would like to download. (This will make the photo bigger)
Right Click, then choose "Save image as..." (we recommend saving to your desktop).
Use the photo of Our Lady for God's Greater Glory!
Custodian Photos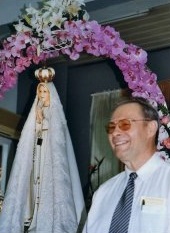 Carl Malburg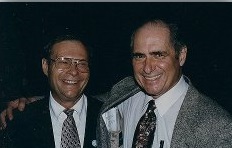 Carl Malburg with Louis Kaczmarek, retired custodian
How can I host the IPVS?
To find out how you can host the International Pilgrim Virgin Statue, please contact:
Rose Marie Malburg
President, Pilgrim Virgin Committee
If you have additional questions, please read the frequently asked questions page, and do not hesitate to contact the Pilgrim Virgin Committee. God bless you!
Miracles, Graces and Favors Received